Post by jeffolie on Oct 11, 2013 13:17:27 GMT -6
Baby boomers and the golden handcuffs of real estate: Will low inventory be a trend for the next few years?
There is an interesting "wealthy gentrification" of many neighborhoods in California. I've seen prime spots in places like Pasadena slowly evolve into upper-class professional enclaves while "old school" owners live modestly watching their new neighbors pull into their driveways with Range Rovers and BMWs. They live in million dollar homes but their bank statements would tell you otherwise. There is a large contingent of
California homeowners that have what I call the golden handcuffs of real estate. They are cash poor and equity rich.
That is, if they are willing to sell and move away from the more expensive market they can cash in their lottery ticket. Many will not. This trend is part of the
stripping away of the middle class in California
. People seemed shocked by the money flowing in from overseas but just look around your house, car, and other items that you own. It is very likely that they are global in nature. So when you have buyers from Asia buying up real estate in San Marino or Irvine with suitcases of money, it is no mystery.
All of this is to say that many baby boomers are likely going to be tied down to their real estate. Those that want to keep up with their neighbors can simply tap into their property via a reverse mortgage and live up the dream. Is this smart? Of course not.
Yet most think they are real estate experts because they've watched HGTV or some flipping show.
Is this low inventory environment a temporary situation or is it here to stay?
Real estate prices soaring but
very little new building
California home prices are up a stunning 28 percent from last year. Did incomes boom up? Nope. Did we have a boom in high paying jobs? Not really. The flood of investor demand has been the big push. If this was a longer term trend we would have seen a big pickup in building which never materialized:
california housing starts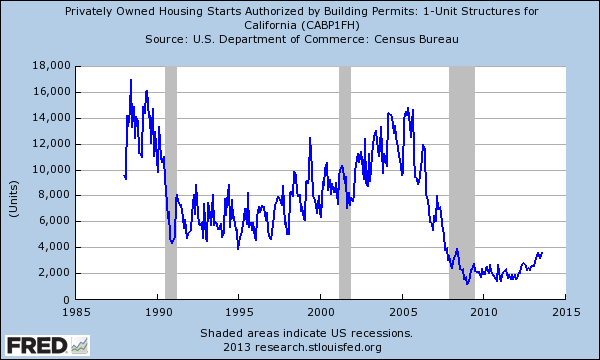 www.doctorhousingbubble.com/wp-content/uploads/2013/10/california-housing-starts.png
California building
permits are down a whopping 78 percent from the peak in 2005
. Yet prices are soaring. But
prices are soaring because the market is controlled similar to a U.S.S.R. project. The entire mortgage market is government backed. The Fed is injecting cheap rates into their member banks and this has trickled into real estate via investing
.
Many on Wall Street see the devaluation of the dollar and massive QE events and the rush has been to tangible real assets
. Banks rewrote accounting standards to freeze mark-to-market to their favor. Average Joe's and Jane's are basically competing with the big boys and as usual, mistake luck with investing acumen.
We rarely hear about the 5,000,000+ that have lost their homes via foreclosure since the crisis hit, including the hundreds of thousands in "real estate never goes down" California.

The building permit decline-phase is not only a California
trend but is nationwide
:
housing starts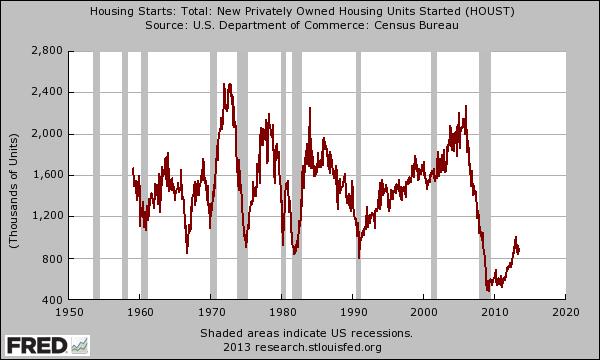 www.doctorhousingbubble.com/wp-content/uploads/2013/10/housing-starts.png
Why is building demand so weak when prices are clearly moving higher? Well this was a short burst of mania. Prices are up all across California so the land is short argument is baloney. Sure, this makes prime coastal areas boom like crazy but for the most part these were wealthy areas to begin with. Just drive one hour inland and you'll realize that California has a massive amount of land. Heck, even the California Association of Realtors doesn't see this craziness going in 2014:
"(PE) California's median home price is expected to increase 6 percent to $432,800 in 2014, following a projected 28 percent increase in 2013 to $408,600."
Funny how they never predicted the 28 percent increase. The CAR in October of 2012 predicted home prices would rise 5.7 percent in 2013 ending at $335,000. The point being, the massive rise has come from insatiable investor demand, controlled inventory, and the government owning the mortgage market. People are now overplaying this hand which is typical of manias. There was an interesting comment regarding inventory in a previous article:
Dfresh said:
"High inventory coming from lack of qualified buyers? Not a strong correlation, IMO. CA is hamstrung with inventory moving forward due to:
1) Prop 13
2) Boomers have paltry retirement and need their house as asset to do a reverse mortgage, rent out rooms, etc
3) Lack of empty dirt to build on (desirable areas)
4) fog-a-mirror types have been wiped out…who remain are stronger hands
5) global economy means lots of demand for so cal, which still is just slightly more desirable than TX
6) LA very hospitable to different races (Middle East, Asian, Latino/Hispanic)
7) etc"
This goes back to our baby boomers with golden handcuffs. Young California home buyers are in a poor position to buy. They are not the major buyers in this market. Investors are eating up at least 1 out of every 3 sales. FHA is still about 20 percent of the market. The rest is boomers selling or moving up and a mix of everything else. Yet to think that boomers will all of a sudden sell is mistaken. People are reluctant to move. What you do see is "envy" in these areas where people are locked into Prop 13 grandfathered tax rates and have either a very low mortgage payment or a paid off home while new neighbors are truly earning incomes that justify the new housing metrics of the area. The above comment highlights many of the reasons why inventory although growing, will probably only grow slowly in the next year.
Take a look at the LA area for example (total inventory):
la inventory

www.doctorhousingbubble.com/wp-content/uploads/2013/10/la-inventory.png
In October of 2007 the LA area had something like 53,000 properties. We did hit a low in March of this year of 15,000 but today it is up to 18,000. A good jump from the spring lows but a giant distance from the highs of 2007. Many of the points given in the above comment highlight why investor demand in California has been nothing short of insane.
What is going on in the current environment is a confirmation bias. Everyone is a genius and timed the market correctly. Nassim Taleb has a good story about a turkey enjoying every dinner and thinking it hit the jackpot until the day before Thanksgiving when the lights go out. A Black Swan event. That was 2007. All the experts from 1997 to 2007 in real estate suddenly were rushing out the doors. Keep in mind that before the last crash, real estate never saw a one year decline going all the way back to the Great Depression.
Of course, many baby boomers that timed a purchase are suddenly market experts. But I go back to all those cases of failure that now remain silent licking their wounds. That is how markets work. The bravado is loudest when you are riding the wave. Back in 2010 we made a prediction of a California housing bottom hitting in 2012. At the time shadow inventory was very high but it was clear the government was going to get heavily involved in the game. It is interesting looking back 3 years that we got the overall trend right but some of the reasons for the trend shift wrong. For one, we did not see the massive flood of all cash buyers (not to this level and for such a sustained period). In the context of today's market, it seems easier to read the trend back then compared to today because it is hard to call this a market. Today however, I have seen few predictions as to how we can sustain this trend. Plus in a controlled market, the Fed can come out with QE3, QE4, or QE infinity so it is hard to say what impact this will have on prices. If you think full on government control is good in real estate just look at the empty cities in China and their real estate system.
Yet ironically beyond these points, people see the income data and the fact that our government is full on dysfunction but hey, California real estate is like platinum and will never tarnish. They look at the below chart and
see housing mania 2.0 once again
:
california-incomes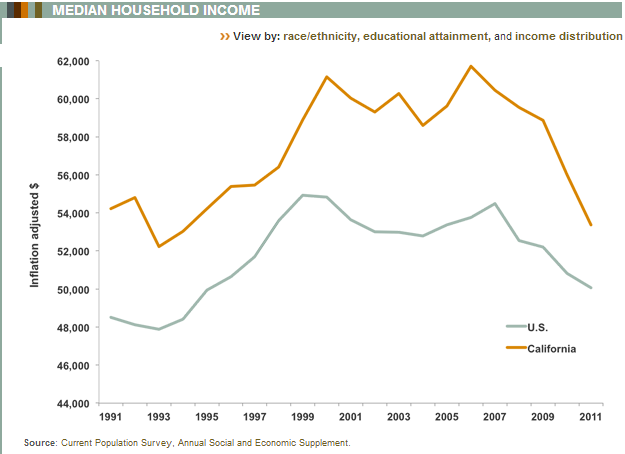 www.doctorhousingbubble.com/wp-content/uploads/2013/10/california-incomes.png
So what
inventory is out there is being fought over by investors
(although this has slowed down recently). The few buyers that want some action for a normal home have to compete with this craziness. Yet even the CAR is being modest about price gains next year. Because of access to information, booms and busts are likely to happen quicker (hence the 28 percent jump in real estate prices last year as incomes remain stagnant).
What is interesting though, is that we do have a
growing trend of rent
ers:
renter-homeowner-california

www.doctorhousingbubble.com/wp-content/uploads/2013/10/renter-homeowner-california.png
This is a growing voting bloc here. Many people think that Prop 13 is untouchable and maybe it is, but things like Mello-Roos and HOAs are not (neither are local taxes and assessments). Just look at the regressive sales tax in California.
With all of this information out there and given the new dynamics, it is unlikely that a flood is going to happen when the market is controlled by the Fed and banks in a U.S.S.R. like fashion. This is no free market. It is a game changer however. The Fed has unlimited digital printing power and they are now the backbone of over 90 percent of all mortgages. They are willing to keep rates as low as possible until the entire government loses credibility (which sadly, seems to get more and more real every year).
It is clear that this has been a gift to banks, not the middle class in this country. Baby boomers are likely to ride their golden handcuffs into their graves. One thing you learn in real estate as an investor is equity is "dreamer's cash" until you actually sell it and get your cashier's check minus commissions and other fees once escrow closes. Then and only then have you cashed in all those golden handcuffs
.
www.doctorhousingbubble.com/golden-real-estate-handcuffs-baby-boomers-money-banking-and-real-estate/