Post by jeffolie on Oct 20, 2013 7:39:52 GMT -6
Gen Renter: The continuing expansion of renters in the United States. A permanent generational shift.
Never mistake luck with timing. That is one lesson gamblers and so-called investors forget time and time again. Even in baseball batting .300 is considered fantastic. The rhetoric being uttered by some people is similar to what was being said only a few years ago. Of course, the voices of the 5,000,000+ that went through foreclosure is largely drowned out similar to those that went all in with tech stocks right before the bust (where are the Pets.com investing geniuses?). Not to quote an Alanis Morissette song but isn't it ironic? Suddenly folks that bought in 2011 or 2012 act as if they deserve a Ph.D. in economics. Don't mistake luck with investing acumen. These people are caught up in the low rate, low inventory, and investor driven uptrend.
California is an excellent example of this. Home prices are rising at astounding speeds pricing many out of the market. It is no surprise that the number of renters in the state is surging as well (this is also a nationwide trend). Investors dominate the market.
A cap rate of 4 percent may be reasonable when the Fed is artificially creating a negative interest rate environment. This generational divide is going to continue and as usual, the US is going to undergo some dramatic changes including a growing renting class.
Timeline of generations
First, it might be useful to breakdown the generational timelines:
timeline

Source: The Echo Boom
The baby boomer generation had many fortunate factors that allowed them to use the "monkey throwing darts at a dart board" approach to investing:
-1. A devastated economy after World War II where the US was left in a prime competitive advantage
-2. Cheap plentiful housing
-3. A ridiculously strong dollar
-4. Strong government fundamentals (revenues versus spending)
-5. Favorable mortgage rates
-6. The start of a raging bull market
So of course this was a time when a blue collar worker, even one per household, was enough to purchase a home and have what you would call a middle class life.
Job security, a near extinct term today, was common place. Owning a home with a blue collar job is no longer possible in expensive states. Even in more modestly priced metro areas, you will need to be a professional with competitive skills.
America has a great product and
prime housing locations are now open to the emerging wealthy around the world.
Cash is always king
. Just go to an open house in a prime location and see this in action. Yet because of markets now depending on outside factors, it can also be a double-edged sword (i.e., targeted location of Japanese money during their mega-run).
The timeline above is causing some interesting generational divides. If I had a nickel for every baby boomer that said "I worked flipping burgers when I was a teenager and had time to surf and bought my first house with a good down payment. Pay your dues!" Of course they went to state college when it was practically free and ironically, would not have the skills and competitive edge to buy the home they currently live in if they needed to purchase today.
So this mindset is handed over to their kids, Gen-X that largely wants the same lifestyle but can't do it in the same format. So they go into massive debt (i.e., student debt, massive mortgages, leased cars, etc). Not really wealthy but chasing a time that largely has passed. The world is fiercely competitive now. Gen-Y is probably the big change factor here and many enjoy mobility, have big college debt, and probably want smaller homes. Even if they want the baby boomer dream of the Endless Summer the global economy is not what it was after World War II. Guess what? We did a good job marketing that Endless Summer and now people around the world want it too (and the means to achieve it). Anyone that travels around the world understands that the emerging middle and upper classes want the same stuff as you do (i.e., nice homes, cars, good schools for kids, etc).
Homeownership by age
There is little doubt that younger generations simply are going to be less affluent.
Because of this and the massive number of investors buying properties, many are either
choosing to rent or are being bid out:

renting generation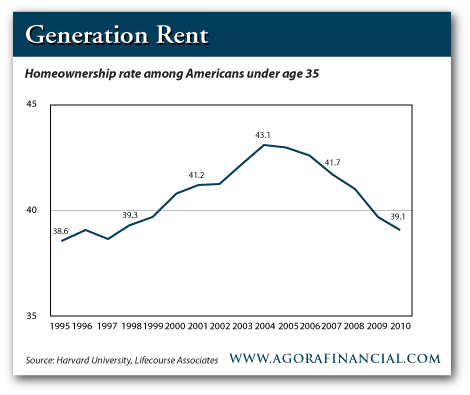 This is a big decline since the housing market went bust. Even with low mortgage rates, it is still a competitive market in many metro areas. Large pools of money are chasing better yields where they can find it. Why are investors crowding out regular buyers? Arbitrage. Plain and simple. Of course some are mistaking luck with picking the right time. Where are those 5,000,000+ foreclosed homeowners that picked the right time as well? Did any of these buyers go in with the intention of being foreclosed? Of course not! Yet licking wounds doesn't make for the bravado of timing a purchase like getting in when Apple was cheap (what about those that got in when Enron or WorldCom was cheap?).
The declining trend nationwide
As we mentioned, this trend is nationwide although more pronounced in targeted metro areas:
homeownership rate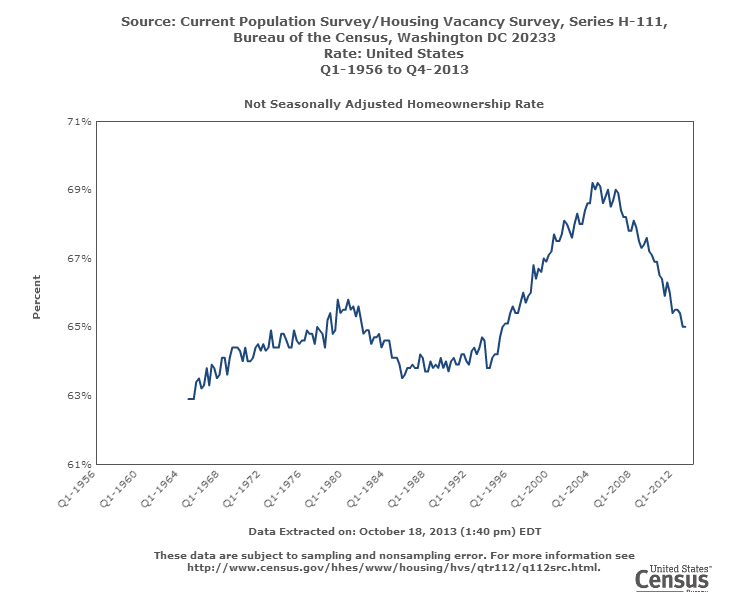 People are social animals. They want to be around others that think, speak, and sound like each other. This is why in terms of mobility, people are largely inertial beings. This doesn't make necessarily for a good life because variety and challenge is the spice of better things but it would be ignorant to not state the obvious. While the market busted, even those that lost their homes via foreclosure simply opted to rent instead of packing the SUV and heading east. Some did, but most didn't.
So why is it unlikely that younger generations will pursue baby boomer pathways? For one, they don't have the fortune of being at the right place at the right time. You actually need to be a pretty good dart thrower even to outpace inflation. Plus, this fortune came at the hands of a massive World War. History isn't written by the peasants, serfs, poor, and those without a voice (or those that make massively bad bets in booms and busts).
The retirement figures show us a telling story:
Avg-Retirement-Savings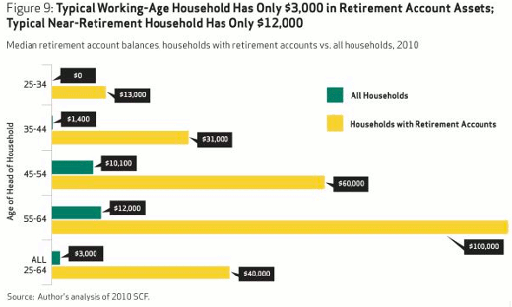 The median retirement account for those 25 to 34 is $0!
In other words, most in this age range have no money saved in retirement accounts and these are the people that will have a chopped down version of Social Security. Even those 35 to 44 have a median retirement account of $1,400. It isn't too hot for those at the top range either but you can catch the drift here.
In California as I had mentioned, you have
a flood of golden handcuff real estate owners.
Rich in real estate but lacking in many other income areas.
This is the person in the million dollar Pasadena home carefully watching their grocery bill and complaining about their phone bill from Verizon while they "need" the new iteration of the iPhone 5. What is also funny is those counting their "equity" and acting as if they actually have it. Okay, you have $200,000 more. You have to sell to access it! And rarely is it the case that this group would sell a Pasadena home to move to Pacoima or Palmdale to leverage that wealth. They want Beverly Hills or Manhattan next. Property ladder mentality for life. Pyramids get smaller at the top (even the pharaohs knew this and they didn't have access to the inter-webs). Gen-X seems to want this life as well but is going into ridiculous debt to keep the charade going. Gen-Y has different aspirations and even if they did want this, the market has priced them completely out.
Rental housing
So it should be no surprise that
most expensive markets are largely packed with renters
(this is only
a trend that will accelerate as income disparities dramatically go up):

rental housing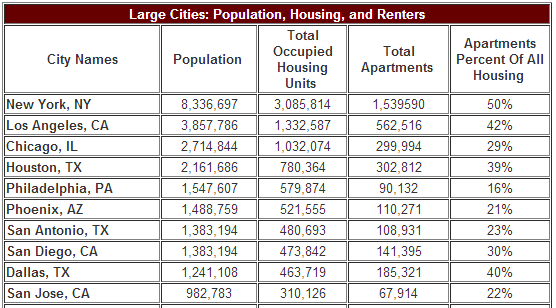 Source: NMHC
It really isn't shocking that 50 percent of New York is made up by apartments but look at Los Angeles (the city). 42 percent of housing is made up by apartments. This is very high and keep in mind this doesn't factor in single family units that are used as rentals (the preference of the big money investors). Some may know this already but Los Angeles is a renting majority market.
In fact in Los Angeles County (beyond the city and covering roughly 10,000,000 people) 54 percent of households rent based on the 2012 ACS Census report. That is a solid majority. This is also another reason why items like Prop 13 are unlikely to stand the test of time.
You already see roundabouts of getting money from Mello-Roos or HOAs. Irvine is a perfect example of this. Yet markets are fickle. This is clearly an unsustainable pace of price appreciation and already, sales are slowing down a bit in SoCal and inventory is up.
Even last month the median price dipped a bit in SoCal and has remained at a tight range for a few months as well
. Even with moves like this we will have a growing renting generation.
Housing starts still remain low overall:
new housing starts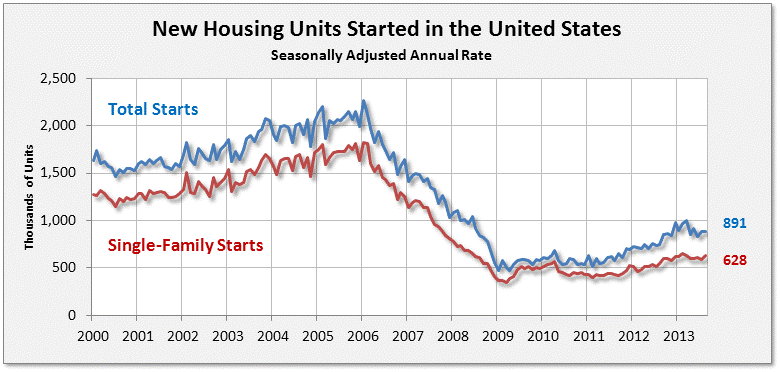 Builders have a good sense as to this because of higher costs, land locked markets, and the big risk that when you build, you are basically making a bet for the future (that is, when you build and sell you will be compensated for your opportunity cost). The chart above shows that those that make a living on building and selling aren't so positive on the future of housing. And permits are higher now for multi-unit family buildings riding the rental trend.
Nothing wrong with renting. Heck, 54 percent of Los Angeles County does this! You can also do this and live life (shocking, I know). Gen Rent is going to be around for a long-time and as usual, real estate is certain to bring us some interesting times ahead. From boom to bust to boom. And if you think sellers have some sort of allegiance to people based on age/race/nationality/etc just go to an open house in a prime location. The allegiance is to cash. The government shutdown was only resolved when the mega debt bill came due. We'll be back at it in short order but Gen Rent is here to stay.
www.doctorhousingbubble.com/gen-renter-generation-of-renters-demographics-of-housing-age/