Post by jeffolie on Dec 7, 2014 18:55:37 GMT -6
Cheap oil's economic benefits may be a big myth
By Anora Mahmudova and Mark DeCambre
Published: Dec 4, 2014
Plunging oil prices could be a bad omen for the economy
Is falling oil, and gasoline prices, an economic boon?
NEW YORK (MarketWatch) — Cheap oil is awesome, right? Most economists describe it as a sort of tax cut for Americans at the gas pump. Even Larry Fink, a hot-shot Wall Street money manager, declared oil's decline "spectacular."
"This is an incredible tax cut for Americans and everywhere else around the world," Fink told CNBC Wednesday, referring to the startling plunge oil has seen in recent weeks.
The cheap oil argument goes like this: consumers and businesses save in heating costs and in fueling their cars and those savings will be spent on discretionary items, fueling consumption.
A recent article in the Washington Post indicated that Americans would pocket a $230 billion windfall, if prices stay at their current levels, compared to where they were in June. Read: Filling up at the gas pump is about to get even cheaper.
However, some financial experts argue that a decline in oil isn't all that it's cracked up to be. In fact, it could be a bad omen for the U.S. economy.
Lance Roberts, Strategist for STA Wealth Management, said the idea that declining energy prices are good for the economy is wrong.
"[When] an individual fills up their automobile, there is not an extra $10 bill that shows up in their wallet, therefore, the incentive to spend really is not recognized and the 'savings' get washed within already tight consumer budgets," Roberts argued.
It's often noted that consumer spending accounts for about two-thirds of gross domestic product. But Roberts pointed out that history does not seem to support the idea that lower gasoline prices, and other cheaper energy costs, lead to higher consumer spending, as the following chart shows:
 
ei.marketwatch.com//Multimedia/2014/12/03/Photos/ZH/MW-DA623_gas_pr_20141203143012_ZH.jpg?uuid=dd78d136-7b22-11e4-a054-8ee4b5c82a3e
In fact, as Roberts attempted to illustrate in the chart below, sharp declines in energy prices have actually "been coincident with lower economic growth rates," as he termed it. In other words, falling oil prices have typically been a harbinger of difficult economic times to come.
ei.marketwatch.com//Multimedia/2014/12/03/Photos/ZH/MW-DA626_oil_pr_20141203144424_ZH.jpg?uuid=d3f1cba2-7b24-11e4-a054-8ee4b5c82a3e
Think of oil prices as a measure of the global economy's blood pressure. While there has been a production glut, the strengthening dollar has also contributed to the dramatic drop in oil prices — and that rapidly rising dollar is a function of weakness elsewhere, particularly in Europe and Asia.
European Central Bank President Mario Draghi said falling energy prices are a concern for the central bank. "We will be particularly vigilant as regards the broader impact of recent oil-price developments on medium-term inflation trends in the euro area," he said during his introductory comments to the ECB's Thursday meeting.
Joseph Saluzzi, co-founder and co-head of equity trading at Themis Trading, a brokerage firm, was also skeptical of the benefits promised by cheap oil prices. He put it this way:
"Falling commodity prices are a function of global deflation. In the short term, lower oil prices are great for consumers, but if slow demand and deflation continue overseas, eventually it will arrive to the U.S. In the long-term, deflation is a killer, not because prices are going down, but because the demand is falling."
Others have made this point as well, including MarketWatch contributor Michael Gayed, who noted that "if falling oil were bullish, shouldn't more cyclical areas of the market rally on that."
Nymex West Texas Intermediate crude CLF5, -1.38% which was up in Wednesday trading, has been down for five of the past six trading sessions, and has lost 38% of its value since June. Meanwhile, Brent crude LCOF5, -1.38% for January delivery, which trades on the London ICE Futures exchange, has lost around 39% of its value since June. Oil continued its descent in Thursday trading.
Inherent in the debate surrounding the benefits of shrinking oil prices is the question of causation. What has driven oil prices lower? The Organization of the Petroleum Exporting Countries's decision on Nov. 27 not to cut oil output has played a hand in the decline, but OPEC has placed the blame for oil's oversupply squarely on the shoulders of U.S. shale-oil producers.
They are betting that shale producers will be brought to their knees by mid-2015, as the Wall Street Journal reported.
Sluggish demand from heavy-commodity giants like China also has been a contributing factor to lower oil. In fact, slowing demand from China may be the biggest factor, which implies, perhaps, a longer-term issue with demand rather than purely supply. Certainly oil speculators, hedge funds and other investors, have played their part in inflating the commodity's price over the years. They may be playing a hand in dragging prices lower now.
The length and severity of this current downturn is anyone's guess. Oil price moves are unpredictable. During the 2008 financial crisis, oil prices hit an all-time high of $147 a barrel before plunging to $40 dollars before the year ended. Read: A brief wondrous history of OPEC landmark events.
But the rampant guesstimating about where oil will finally settle continues: Here's one tweet from Yahoo Finance's Jeffrey Hirsch, from Wednesday: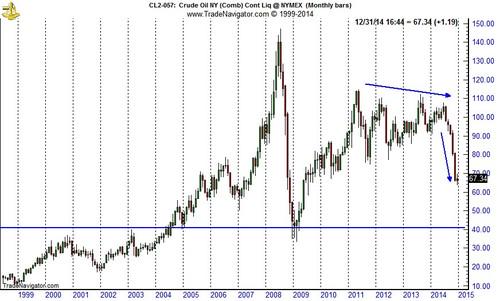 pbs.twimg.com/media/B4A6qoxCMAEplC1.jpg:large
Oil wildcatters like T. Boone Pickens have speculated that oil will return to $100 a barrel in the next 12 or 18 months.
It's fall may be a great boon for the average consumer, but it's worth considering some of the broader implications before declaring it an unmitigated win for the economy.
These include the knock-on effect that may occur if U.S. shale companies are forced to shut their doors, cutting off a significant source of good-paying jobs in the U.S..
But perhaps the good will outweigh the bad. In either case, consumers should enjoy cheap oil and gas while they can — because it likely won't last forever.
www.marketwatch.com/story/cheap-oils-economic-benefits-may-be-a-big-myth-2014-12-04