Post by unlawflcombatnt on Jan 27, 2010 22:49:04 GMT -6
Karl Denninger posted
an article
a couple of days ago about how the already-published November report for Durable Orders had been removed from the Census Bureau's site. The alleged reason was that it was being "revised."
The November report for Factory Orders came out on Jan. 5th, reporting a +1.1% increase, which seemed suspect.
However, after both Durable Goods Orders and Factory Orders for November were published, both were removed from the internet and became unavailable to the public because they were allegedly being "revised."
It is pretty bizarre to go to the Census Bureau site and not find the historical listing for November, for either Factory Orders or Durable Goods--pecially when you've personally already downloaded them yourself (as I had done). It's even more bizarre to type in the predicted url for Durable Goods Orders --
www.census.gov/manufacturing/m3/historical_data/pressreleases/adv/2009/nov09adv.pdf
-- and get only the message: "Sorry, the page you requested has either been moved or is no longer available on this server" or for Factory Orders
url to the pdf file
which actually works, but gives an almost blank pdf file that says something to the effect of "Not available at this time...."
Again, I had
already
downloaded November's original Durable Orders report to my own computer. But since I had to do a restoration on my computer, I lost all my recent saves--including the November Durable Orders report.
Fortunately, I
was
able to find an exact copy from The Economic Populist. The link is:
www.economicpopulist.org/files/durablegoods11_09.pdf
I also made a modified copy of Table 1 of the November report and uploaded it to photobucket (in case even this record of November's report is eliminated from the internet.)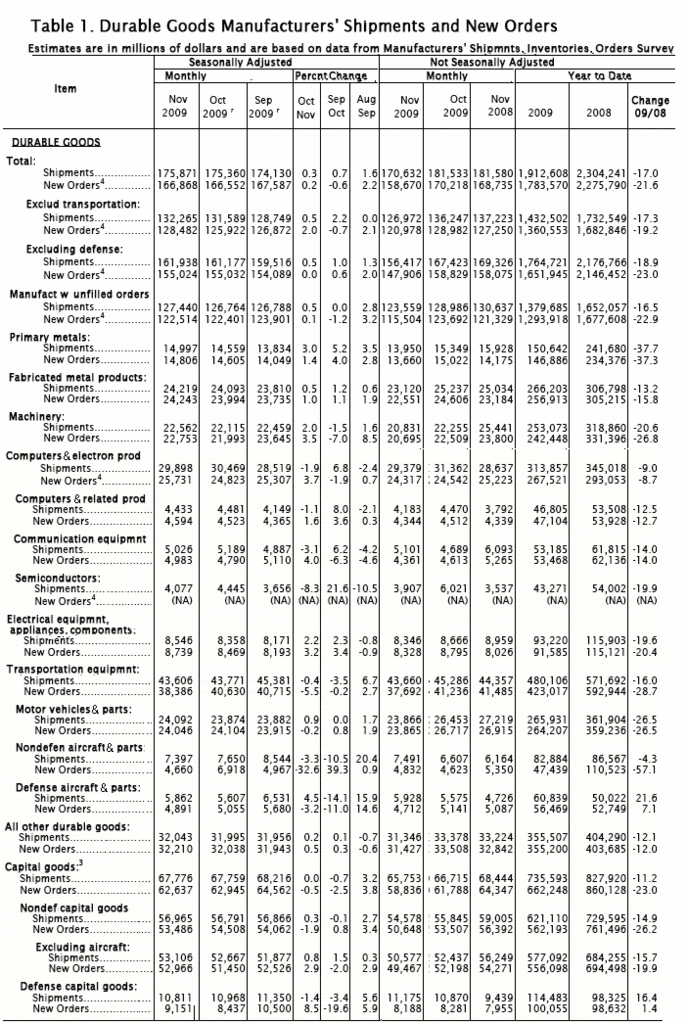 i27.photobucket.com/albums/c190/unlawflcombatnt/1-27-10grphDurOrdNov09-ABC-2-X.gif
Here's another, apparently live graphic from the Census Bureau for Durable Orders through November 2009:
www.census.gov/indicator/www/m3/graphics/m3adv.gif
(It'll be interesting to see if this graph changes with tomorrow's Durable Orders report for December 2009.)
Here's a currently available link to the orginal Factory Orders Report:
link
I've noticed this rewriting of history on scattered occasions for over 4 years from government sites such as the BLS, BEA, and Census Bureau.
It's nice to see someone else has also noticed this.