Post by unlawflcombatnt on Mar 10, 2018 12:02:06 GMT -6
from the Huffington Post
www.huffingtonpost.com/entry/administration-needs-to-defend-our-steel-industry_us_59581f81e4b0f078efd98a96
Administration Needs to Defend Our Steel Industry
07/01/2017 06:23 pm ET

By Jeff Ferry, CPA Research Director
"This past April, on a 92-mile bike ride through the hills of Monterey, California, I met a young man I'm proud to call a friend, Rasheen Malone.
Rasheen grew up in a tough section of Brooklyn, not far from where I was born. At 18, Rasheen joined the U.S. Marines. He did 4 tours of duty in Iraq and Afghanistan. On one of those tours, he stepped on an IED (land mine) and had both his legs blown off. Military surgeons fixed him up—he has two rods and 13 pins in each leg, and to watch him walk you might not know it. As we biked, slowly, up the steepest part of the climb in the Monterey hills, I asked Rasheen how it feels to pull a bike uphill with all that hardware in his legs.
He looked at me and smiled. "It hurts, man," was all he said.
Malone and the ex-Marine buddies with him on that ride are big supporters of the armor plating now used on U.S. military vehicles in Iraq and Afghanistan. That hardened steel armor, introduced in 2007 in the MRAP vehicle, has saved an estimated 40,000 U.S. lives, according to one military estimate. According to another, a soldier is "between nine and 14 times less likely to be killed" hitting a land mine in the new generation of armored vehicle than in a traditional Humvee.
The Trump Administration is looking at applying Section 232 of the 1962 Trade Expansion Act and restricting steel imports into the U.S. on the grounds that steel is critical to U.S. national security
. Many economists don't understand the complexity of the steel supply chain. Free traders who live in a world of simplified supply-and-demand curves think of steel as a mass-produced, low-tech product made in hot, dirty, blast furnaces and hammered into shapes in noisy steel mills. But there is a lot more subtlety to the steel industry than plain old crude steel.
Specialty steels are used throughout the military, in weapons, vehicles, armor, tools and other defense systems. Basic steel, such as the sheet steel on your refrigerator, does not have the strength, hardness, or lightness needed for many military applications. Steelmaker Nucor makes forgings that are used in the Abrams tank and the Bradley Fighting Vehicles. Forgings are steel products specially cast to be much harder than bulk steel. TimkenSteel makes the hardened and treated steel used by U.S. Air Force "bunker-busting" bombs, to make bomb casings harder and eliminate collateral damage. Allegheny Technologies Inc. (ATI) makes alloy steels, adding nickel, titanium, and other metals to steel, to create products that are more heat-resistant, or stronger, or lighter, all qualities required in the latest generations of fighter jets.
For all these steelmakers, defense markets are just a small share of their business. All of their businesses rely on a mixture of plain old bulk steel and a range of specialty steels to achieve sustainable levels of revenue and profitability. In every case, the defense business relies on a thriving non-defense market to add up to a sustainable business. As ATI Vice President Terrence Hartford explained in testimony[1] last month: "The production for all defense applications represents in our case perhaps 10 percent of total production…The survival of this industry however is dependent on the viability of all its businesses, not just defense-related production…the economic welfare of our high volume stainless steel operations directly impacts our ability to serve the needs of our military."
The core problem of the U.S. steel business is that due to a global oversupply of bulk steel, and some specialty steels such as stainless, the industry is losing money ($1.7 billion in 2015 according to Nucor CEO John Ferriola) and shrinking.
Overproduction in China
In discussing the global steel industry, all roads lead to China. Between 2006 and 2015, Chinese steel production rose 91% to reach 804 million tonnes, 50% of world production (see Fig. 1). Today the industry is only at some 70% of capacity utilized, and the enormous excess capacity weighs on prices and profitability. China has admitted it is overproducing, has committed to reducing production, but has not done so. On the contrary, Chinese production continues to rise—up another 1.2% in 2016. "China's state-supported steel industry now exports more steel than is produced by all three NAFTA countries combined," said Nucor's Ferriola in his Commerce Department testimony.[2]
Figure 1. World steel production in thousands of tonnes. China is up to 50% share; U.S. is down to 4.9%.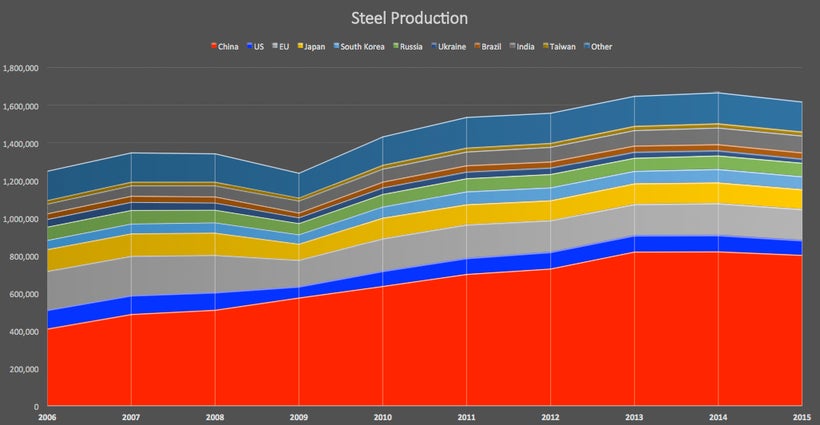 Ward Timken, CEO of TimkenSteel, which was founded 100 years ago this year, said this in his testimony:[3] "Three numbers keep me up at night: 700 million, 425 million, and 94 million. The world has 700 million metric tons of steel overcapacity. 425 million of that is in China alone. Demand in the U.S. is only 94 million. Imports are a real issue for the U.S. steel industry, particularly when foreign competitors don't play by the rules."
U.S. steel production has fallen by 20% since 2006. As Figure 2 shows, China stands out as the world's dominant exporter of steel, while the U.S. is the dominant importer. There's little doubt that if left to the so-called free market (which is not free at all, but driven by decisions made by the Chinese government), the U.S. steel industry could be wiped out by overproduction in China. Germany has urged the Administration not to block imports, pointing out (accurately) that Germany and Canada sell more steel into the U.S. than China, and they might bear the brunt of any import restrictions. They and their supporters also claim (probably accurately) that if we block Chinese steel, more Chinese steel will just be routed to Europe, depressing prices over there. In fact, between 2013 and 2016, Chinese steel exports into the European Union rose 90%, in part because U.S. antidumping actions kept Chinese steel out of our market. The result? European steel prices have fallen 44%, causing layoffs, losses, and general anguish in Europe's industrial heartland.
Figure 2. China dominates steel exports. U.S. is world's largest importer.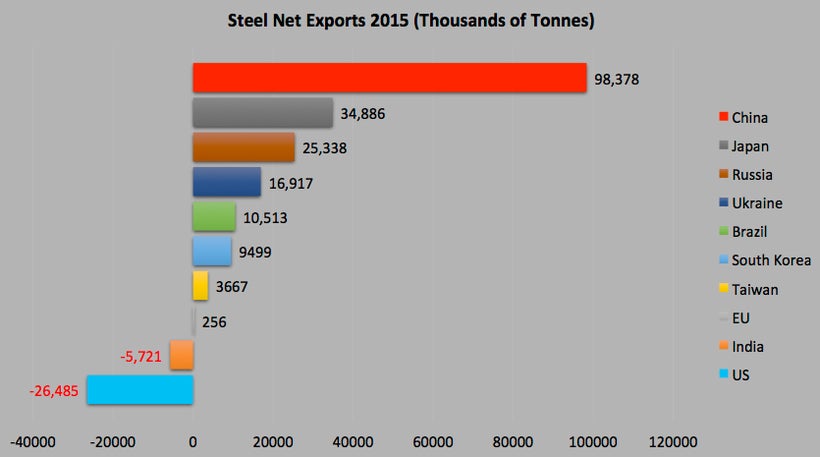 The German industry apparently would like us to follow their lead and just make do with whatever is left over after the state-supported overproducers have taken their share of the market. Is that the right thing for the United States to do? Can we afford to put our defense capability at risk? (Not to mention the economic and social cost of losing even more of our steel industry.) Or should we defend our market and our capability, while we stand ready to negotiate a fair international solution with all parties?
When you talk about steel, the issue of defense is never far away. The Trump Administration should remind our friends in Germany that the original success of European unity, supported by voters in all six founding nations , was the creation back in the 1950s of the European Coal and Steel Community, when Germany, France and four other nations sat down together and agreed on rules for coexistence in the steel industry. It put an end to a century of European steel rivalries. Until we can have that sort of sensible discussion with today's overproducers, the U.S. needs to take action to defend its steel industry. We owe it to soldiers like Rasheen Malone."